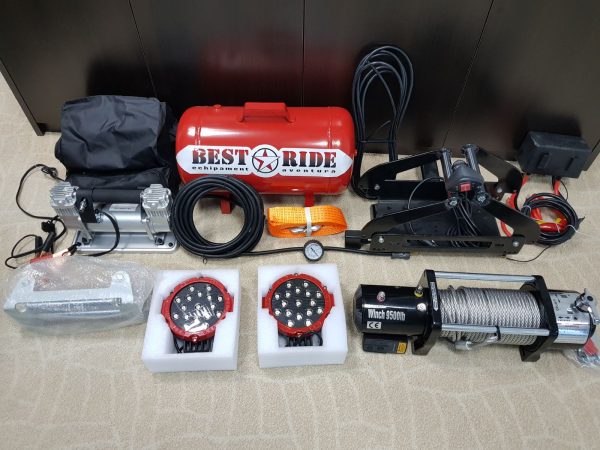 BestRide.ro sustine performanta romaneasca in concursurile nationale si internationale de rally-raid in calitate de sponsor partener al echipei Transcarpatic Rally Team prin oferirea de echipamente necesare viitoarelor competitii din desertul Emiratelor Arabe:
Dubai International Baja  – 10-11 martie 2018
Abu Dhabi Desert Challenge – 24-29 martie 2018
Qatar Cross Country Rally – 17-22 aprilie 2018.
Echipa Transcarpatic Rally Team are deja experienta curselor in desert, fiind prima echipa din Romania care a finalizat Africa Eco Race – the Race to Dakar 2018, iar baietii de la BestRide.ro sustin acest nou demers cu echipamente abolut necesare pentru a face fata la probleme tehnice si logistice: compresor, aer porfesional, troliu, proiectoare led, anvelope off-road.
Asadar, ne pregatim de noi aventuri, si mai multa adrenalina si mai multa viteza si mai multa implicare.  Iar cum aceste aventuri nu ar fi posibile fara un efort material, visele devenite realitate nu ar fi fost atat de aproape fara oameni care sa creada in noi, sa creada in ceea ce facem si sa impartaseasca aceleasi valori si viziune cu ale noastre.
Multumim sponsorului pentru ca are incredere in Transcarpatic Rally Team si sustine demersul de a aduce drapelul Romaniei pe podiumurile nationale si internationale. Impreuna putem face ca aceste rezultate sa conteze si cat mai multi sportivi sa aiba sansa sa demonstreze talentul si valoarea lor. 
Sunt alaturi de noi in fiecare etapa, in fiecare competitie, fie ploaie, fie vant, ca ne "dam" pe zapada sau ne luptam cu dunele de nisip. Suntem norocosi de acest parteneriat care transcede o colaborare tipica prin care ambele parti urmaresc cate ceva si se duce intr-o prietenie valoroasa. Cand in spatele tau ai un prieten atunci totul capata alta culoare.
BestRide.ro sunt prima noastra alegere in ceea ce priveste accesoriile off-road. Sunt ceea ce trebuie, au ceea ce trebuie, ofera ceea ce trebuie. Multumim BestRide.ro! Multumim Ciprian! 🙂
Pe aceeasi tema